Elaine Evans thinks this is interesting:
User stories or other items that are likely to be more distant than a few iterations can be left as epics or themes. These items can be estimated in units beyond the 1 to 8 range I recommend. To accommodate estimating these larger items I add 13, 20, 40, and 100 to my preferred sequence of 1, 2, 3, 5, and 8.
From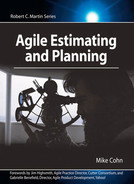 by Mike Cohn
Publisher: Prentice Hall
Released: December 2007
Note
Estimating Epics and Themes in the Product Backlog...cut down on unnecessary user story creation and estimation.