Jaime Montoya thinks this is interesting:
Dimensions and Hierarchies
As we learned in
Chapter 3
,
dimensions
are used to spread a measure into its constituent parts.
Hierarchies
are used to organize dimensions into various levels.
From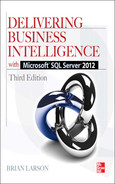 by Brian Larson
Publisher: McGraw-Hill
Released: March 2012
Note
After reading requirements from the business owner about how he wanted to spread measures into their constituent parts for a data cube, I could easily identify the dimensions that he needed and realized that those dimensions formed hierarchies.