Magnus Lundgren thinks this is interesting:
Paul Grice introduced this idea and divided it into four maxims:[2]
Quality

Say what you believe to be true.

Quantity

Say as much information as is needed, but not more.

Relevance

Talk about what is relevant to the conversation at hand.

Manner

Try to be clear and explain in a way that ma...
From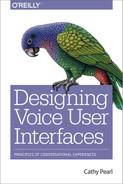 by Cathy Pearl
Publisher: O'Reilly Media, Inc.
Released: December 2016