Abhishek Singh thinks this is interesting:
The replication mechanisms within the Kafka clusters are designed only to work within a single cluster, not between multiple clusters.
From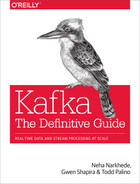 by Gwen Shapira, Neha Narkhede, Todd Palino
Publisher: O'Reilly Media, Inc.
Released: September 2017
Note
Can brokers in a cluster be placed at different locations ?