Philippe Beauchamp thinks this is interesting:
23.  In a Class diagram, what does a line with an arrow from one class to another denote?
A. Attribute visibility
B. Class visibility
C. Method visibility
D. Global visibility
From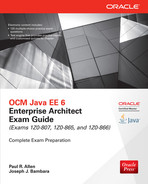 by Joseph Bambara, Paul Allen
Publisher: Oracle Press
Released: July 2014
Note
What is this question getting at? Visibility isn't mentioned in this chapter in terms of attribute versus method/global... and an arrow like this in a class diagram usually denotes a relationship between classes. Not the attribute visibility that is apparently the correct answer...