LIANG LIANG thinks this is interesting:
taking up the real job of analyzing what kind of company they want to be, what their long-term needs are, and whether open source can play some sort of role.
From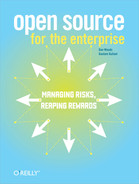 by Gautam Guliani, Dan Woods
Publisher: O'Reilly Media, Inc.
Released: July 2005
Note
Really need think about organization strategy, as free is not good for all! Whether it is useful depends on whether it could meet organization's strategy and solve the organization's real problem.