Peter Malmgren thinks this is interesting:
We won't make any attempt at complete or realistic data definitions, but at least we're tying them to the real world.
From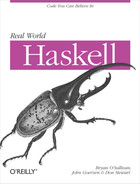 from Real World Haskell
by Donald Bruce Stewart, John Goerzen, Bryan O'Sullivan
Publisher: O'Reilly Media, Inc.
Released: November 2008
Note
Haskell, meet the Real World.