Ulf Morys thinks this is interesting:
A training step is composed of multiple time steps where the number of time steps depends on how large the sequence for this training step is
From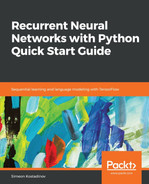 by Simeon Kostadinov
Publisher: Packt Publishing
Released: November 2018
Note
e.g. the length of a phrase ? Take-away: when examining A/R-sequences, this would mean that sequences have different lengths, depending on the number of A/R-events triggered by the user.