Brian Becker thinks this is interesting:
Switch off SELinux.
Make sure that you have access to installation repositories.
From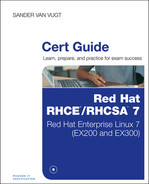 by Sander van Vugt
Publisher: Pearson IT Certification
Released: September 2015
Note
How to do these things? Keep in mind that, at the point that these are needed, we're only in Chapter 6, where SELinux and repositories haven't even been discussed. Also, unless the repositories are supposed to be local (where?), the IP addresses provided might not work on our networks.