Victor Mukhanov thinks this is interesting:
an IP address by which the router is uniquely identified within the OSPF domain
From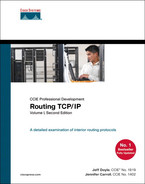 by Jennifer Carroll Jeff Doyle
Publisher: Cisco Press
Released: October 2005
Note
It's not an IP address. It's an identifies of the node in the graph. This identifier happen to be derived from an IP address. OSPF routes towards nodes in the graph not towards prefixes. If it can route toward a node, it obviously can route towards prefixes which node owns.