Paul Michelman thinks this is interesting:
One of our clients recognized his team for contributing to the overall success of the organization by purchasing gift certificates for dinner at a number of different local restaurants. At a team meeting, he explained clearly what they had contributed and then distributed the certificates based on preferences. Members who were not completely satisfied with their choice traded with their teammates.
In the end, the team leader made sure everyone received a certificate to a restaurant of his or her choice by offering to take back and replace any certificate with one that matched the preference of the person. In an effort to a...
From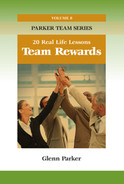 by Glenn Parker
Publisher: HRD Press
Released: January 2010
Note
Reward each team member with a gift certificate to a local restaurant. Not their favorite spot? Encourage trading!