Tara Feld thinks this is interesting:
From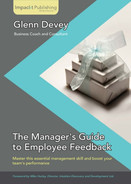 by Glenn Devey
Publisher: Packt Publishing
Released: January 2014
Note
As part of team, you should be able to both receive and provide feedback. The performance appraisal is not just a one way dialogue. It is also critical that you know how to respectfully disagree with a supervisor or calmly discuss situations that have upset you.