Chris Kang thinks this is interesting:
From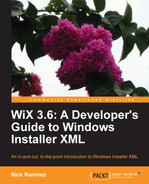 by Nick Ramirez
Publisher: Packt Publishing
Released: December 2012
Note
If Level=0 is set, this feature entry won't even show up in the list of available features to install or uninstall. So, the user won't even be able to "uninstall" it if it was installed before. So, this feature condition example ensures that if the user is trying to uninstall everything, this feature is not incorrectly removed from feature list by setting Level to 0. This is what is meant by ".. feature will be enabled during uninstall..."